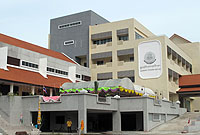 The Project for Casting the Image of Lord Ganesha
by
Chirapat Prapandvidya
New Sanskrit Studies Centre
Photos by Willard Van De Bogart
The Sanskrit Studies Centre in Bangkok, Thailand was established as a result of the support of Sanskritscholars from Thailand and around the world. With the leadership and efforts of Assistant Professor Dr. Chirapat Prapandvidya, former Head of the Department of Oriental Languages, Faculty of Archaeology, Silpakorn University, along with the Indian Community in Thailand as well as the Embassy of India in Bangkok, Thailand, the Sanskrit Studies Center was finally approved by the council of deans at Silpakorn University in 1996.
The Sanskrit Studies Centre is now an academic entity within the Faculty of Archaeology at Silpakorn University under the directorship of Assistant Professor Dr. Sombat Mangmeesukhsiri. To commemorate the 50th birth anniversary of HRH Princess Maha Chakri Sirindhorn, a budget was allotted by the Thai government as well as partial financial support from the government of India enabling The Sanskrit Studies Centre to have a new building built by Silpakorn University. The building is located at No. 8, Liab Klong Thaweewatthana Road, Khet Thaweewatthana, Bangkok 10170.
As a result of a generous gift from Mr. Sathit Kumar a fund has been created for casting the image of Lord Ganesha. The casting will be installed in a shrine within the compound of the Sanskrit Studies Centre, Sanskrit Studies Centre, in association with the Department of Oriental Languages, Faculty of Archaeology, Silpakorn University and the Sanskrit Studies Foundation under the patronage of HRH Princess Maha Chakri Sirindhorn. Plans are underway to make the Lord Ganesha installation an important and auspicious event.
Coupled with the recognition of the patronage of HRH Princess Maha Chakri Sirindhorn there will also be promotional materials on the Sanskrit Study Centre's activities as well as expressing the glory of the ancient Indian values that have been preserved in the Sanskrit language. Needless to say the success of the event depends on the participation and support of academics, students and the entire Indian community. The event as planned will take place at the centre's premises on the most auspicious day for Lord Ganesha. Consequently, that day is Ganesha Chaturthi, which, in this year, falls on September 11, 2010.
The religious ceremonies that were performed on that day will be in accordance with Buddhist and Hindu ritual. The Hindu ritual will be an authentic Yajña or Vedic sacrifice and will be performed by twelve Brahmanas who are well versed in the Vedas and sacrificial lore. The ritual will be headed by the learned Pandit Lalit Mohan Vyas, Chief Priest of Dev Mandir, Bangkok.
A Havan fire ritual,(Yajna) was prepared using a brick kunda, which was built to specific dimensions and shapes according to the purposes of the ceremony. The photo gallery shows the construction and final lighting of the fire with ghee, and the throwing of rice, herbs, and oils into the fire. Lord Ganesh was covered with flowers, spices, oils and fruits during an hour long ceremony conducted by Shri Pandit Lalit Mohan Vyas before the casting of Lord Ganesh took place.
Gallery: Click on images for larger view
Fire Ceremony: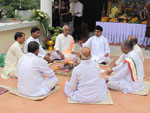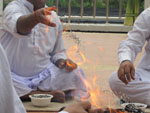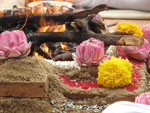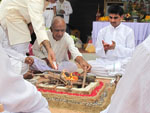 Invited Guests: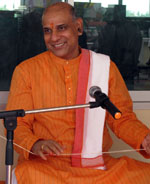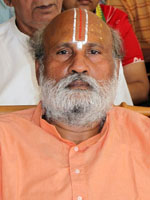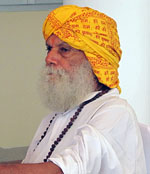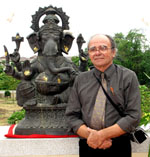 Left to right:
Lalit Mohan Vyasa, Swamiji, Ambassador to India, Tribhuwan Pandey, Willard Van De Bogart

Invited Guests: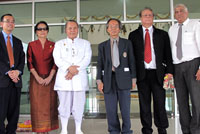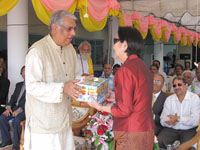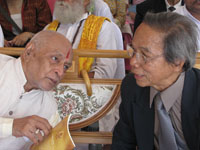 Left to right:
Phra Rajaguru Vamadevamuni-Chirapat Prapandvidya, President Silipakorn University Ban Vitathon -Chirapat

Related links:


Return to:| South East Asian Review |