Dr. Sahai received two prestigious awards from the Indian Government in 2012: Pravasi Bharatiya Samman in January and the Padma Shri in April
Dr. Sahai receives the Pravasi Bharatiya Samman award:
President Pratibha Patil of India on Monday, January 9, 2012, conferred the Pravasi Bharatiya Samman award to Dr. Sachchidanand Sahai for his outstanding contribution in enhancing India's image globally. President Patil said: "Overseas Indians, who number over 27 million, are symbols of India in their adopted countries. They have done extremely well in their chosen fields and have done us proud. We always look forward to meeting with them and learning from their rich experiences."
Professor Sachchidanand Sahai who works and lives in Cambodia has written books that not only helped people in his country but also help South East Asia understand India and its culture. He was advisor to the government of Cambodia for restoration of the great temple of Angkor Wat. His books tell people about how India is connected to Cambodia and to the other nearby South East Asian Countries. He has written 5 volumes on the Ramayana.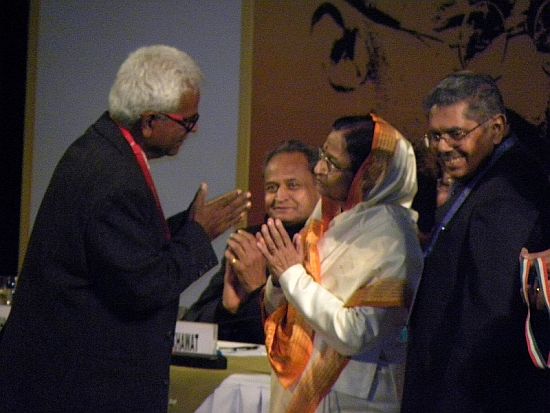 Photo of award being presented to Dr. Sahai by Pratibha Patil, President of India
Dr. Sahai receives the Padma Shri award: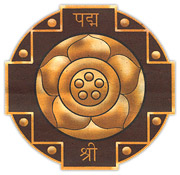 The Government of India has instituted several awards and decorations to recognize individual acts of merit and achievements in various disciplines/fields of achievement. The idea behind instituting a system of awards and decorations has been that these are tangible tokens of appreciation of the services rendered by an individual, and could act as a powerful incentive for greater efforts by that person in the future and would also serve as an example for others to follow.
Padma Awards, the country's highest civilian award, after the Bharat Ratna, is conferred in three categories, namely Padma Vibhushan, Padma Bhushan, and Padma Shri. The award is given in all disciplines/fields of activities viz. art, social work, public affairs, science and engineering, trade and industry, medicine, literature and education, sports, civil service etc. "Padma Vibhushan" is awarded for exceptional and distiguished service; "Padma Bhushan" for distinguished service of high order and "Padma Shri" for distiguished service in any field.
The award is an honor bestowed by the President of India and symbolizes the recognition of the talent and contribution of the recipients. The award has a distinctive prestige and aura of its own and for that reason, it has not been considered appropriate to attach any perks or priviledges to this award.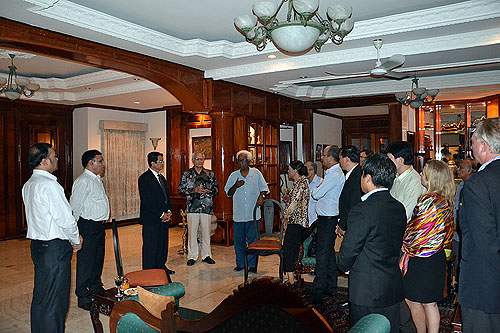 Party hosted for Dr. Sahai (center) in Phnom Penh by H.E.Sachdeva, Indian Ambassador to Cambodia
Professor Sachchidaanand Sahai is an internationally acclamined expert on Indian and Asian cultural relations with the rest of the world. Over the past five decades through his teaching, research and public activities, Prof. Sahai has brought to public notice many forgotten aspects of Asian cultural traditions and the impact of pluralistic Indian World view in the formation of Asian ethos.
Born on March 6, 1941, Prof. Sahai received M.A. degree in Ancient Indian History, Culture and Archaeology in 1962 from Barnares Hindu University, and doctorate degree for his thesis "Les Institutions Politiques et l'organization administration du Cambode acien'. His five volumes on the Lao Ramayanan, his pioneering researches on King Chulalongorn's visit to India in 1872 and his monagraph "The Mekong River: Space and Social Theory" (2005) offer a historic backdrop for the Mekong Ganga Cooperation and enhance public awareness and interest in this initiative.
Prof. Sahai has been the ICCR visiting Professor of Asian Civilization in Laos (1970-72); Fulbright Fellow at Cornell University, Ithaca, New York, 1981; Research Professor at Indira Gandhi National Center for the Arts (1988-1990); Chairperson, Department Ancient Indian and Asian Studies, Magadh Uiversity, Bodh Gaya (1990-2010; Fellow, Indian Institute Advanced Studies, Shimla (2003-2006) and Distinguished Visitor of Indian Council for Cultural Relation to ASEAN Countries. In the course of his ICCR lecture tour in Chile (2011-2012), Prof. Sahai has enlarged the scope of Asian Relations and good will for India.
Prof. Sahai, as the founder and editor of the South East Asian Review, has brought out thirty-four volumes of this journal since 1976 to disseminate knowledge about common cultural heritage of India and Southeast Asia. Fluent in French, English, Laotian, Thai and Khmer and with good groundings in Sanskrit and Sanskrit-based Indo-Aryan languages, Prof. Sahai manintains a rigorous international standard of research in the study of Asian cultual tradition with direct access to the sources of Southeast Asian Civilization.
Prof Sahai is the recipient of several awards and honors including A.S. Altekar Gold Medal for his outstanding performance in M.A.level study at Barnaras Hindu University in 1962; V.K.V. Rao Memorial Life Time Achievement Award from Indian Association of Social Science in 2003; Pravasi Bharatiya Samman Award 2012 for his recent writing on Angkor and for his contributions to strengthening India's relations with Cambodia as Advisor to APSARA Authority, a Royal Cambodian Government Agency for the Safeguard of Angkor. He is also the recipient of the French Government scholarship in Paris (1965-69).
---
Return to: | South East Asian Review |